Sweet and Sour Pork
This is a well-loved and popular dish in many chinese restaurants. It is actually really simple to make.
---
Sweet and Sour Pork

Level: Novice
Serves 4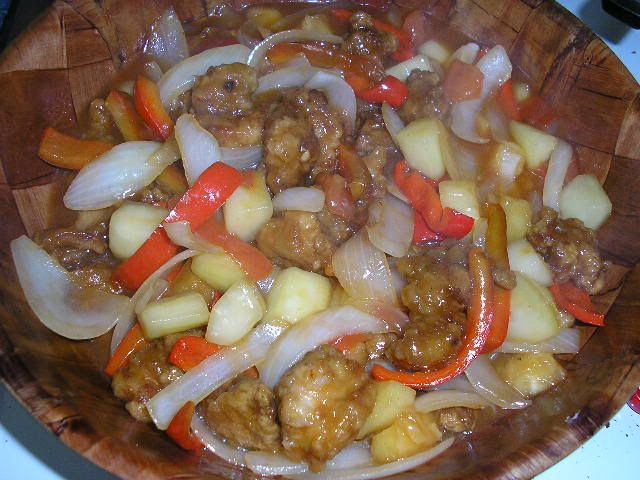 Utensils/Tools Needed
Large frying pan, Chopping board and knife, Kitchen Towels



Ingredients





Pork Marinate:


1 egg
1 Teaspoon Sesame oil
2 Tablespoons light soya sauce
1 Tablespoon Chinese Wine/Sherry
1 Teaspoon pepper



Sauce:


2 Tablespoons Tomato Ketchup
2 Tablespoons White Vinegar
2 Tablespoons Soya Sauce
¼
Cup Sugar

½ Cup Water



Thickening agent:



1 Tablespoon Corn Flour
4 Tablespoons Water


500 grams Pork Cubes
1 Red Capsicum
1 Onion
1 Small Can Pineapple cubes in natural juice

½ Cucumber (optional)
1 Carrot (optional)
1 Cup Corn Flour
3 Cups Oil

Method:
Chop the pork into bite-sized cubes and marinate in

pork marinate

for 1 hour.
Mix up the

sauce

and set aside
Mix up the

thickening agent

mixture and set aside

Slice the onion, capsicum and carrots into 1" pieces and set aside

Peel cucumber, and chop them into bite-sized pieces and set aside

Heat oil in frying pan till hot

Coat each marinated pork piece with corn flour and deep fry

When pork turns golden-brown, drain, dish out and put on kitchen towel

Throw the deep-frying oil away, leave about 2 Tablespoons in the pan

Throw in Onions, Capsicum and Carrot, stir-fry for 3 minutes

Throw in Cucumber and Pineapple, stir-fry for 2 minutes

Pour

Sauce

mixture into pan, let it boil
When sauce mixture is bubbling, pour in the

thickening agent

mixture and let it boil a further 3 minutes

When the sauce thickens, throw in the pork and stir around for 1 minute

Dish up and serve with steamed rice
---
Tip of the day:



You can always reuse the deep-frying oil if you drain it properly. Lay 2-3 pieces of kitchen towels in a funnel and slowly drain the oil into a jar for later use.