Easy "Steamed" Rice
This is a really quick and easy way of getting almost perfect "steamed" rice.
---
Easy "Steamed" Rice

Level: Novice

Serves 2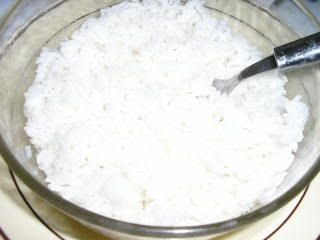 Utensils/Tools Needed

Measuring Jug, Microwavable Deep Dish/Microwave Rice Cooker, Cling Wrap, Large Plate
Ingredients



1 cup of long grain rice
1
½ cup of hot water



Method



Wash/Rinse the rice till the water runs almost clear (this is to remove the excess starch)

Pour it into the rice and stir around

Cover the dish with 2 layers of cling wrap

Use a fork and poke several holes in the cling wrap

Put the dish on a large plate (this is to prevent a huge mess in microwave when the liquid overboils in the microwave)

Set microwave on

HIGH

for 15 minutes.

Let the rice sit for 5 minutes after it's done

Fluff rice with a fork and serve.
---
Tip of the day:



Most supermarkets do have clearance sales in their deli section towards time of closing. Be sure to scout around the deli section 15-30mins before the store closes. The supermarket around my place sells the roasted chickens for ½ price just 20mins before closing. And that's cheaper than buying a raw chicken!